Winter Storm Warning - Feb. 1 through 3.
February 1, 2022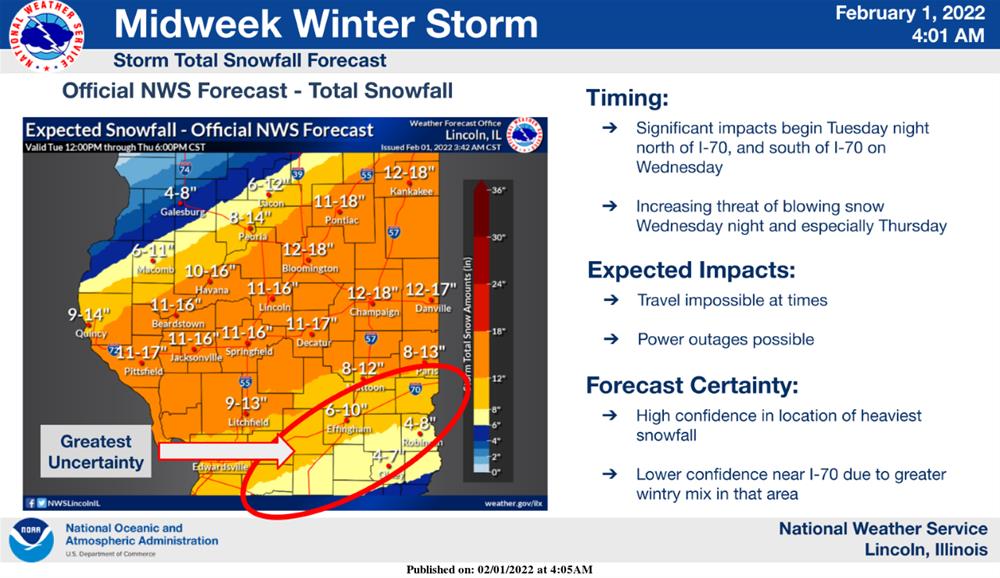 A Winter Storm Warning will be in place for most of Central Illinois from 9pm Tuesday night until 6pm Thursday night. The National Weather Service is predicting heavy snow and sleet with total snow accumulations of 5 to 17 inches across the region. Wind gusting as high as 35 mph is also expected.
According to the National Weather Service, "Travel could be very difficult to impossible. Widespread blowing snow could significantly reduce visibility. The hazardous conditions could impact the morning or evening commute. Power outages may also occur."
In addition, a snow emergency has been declared in the City of Springfield. Springfield's Office of Public Works says the Snow Emergency will be in effect on designated snow routes starting at 9 p.m. Tuesday, Feb. 1, and ending at 9:00 p.m. Friday, Feb. 4, so you will not be able to park in front of the building.
Because of this severe winter weather event, we've decided to go ahead and close the Hoogland on Wednesday and Thursday. We hope to reopen on Friday, but will see how the storms pans out before we make that determination on Thursday.
Thank you and stay safe!